Wilkins Speedway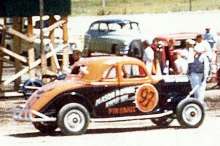 A Lot of Cars Totaled
By Michael Vogt
Photos Courtesy of Michael Vogt
The author, who compiled an oral history of a horse racing track near Caldwell in the 1940s ("Sage Acres," IDAHO magazine, January 2021) now does the same for a motor speedway in the 1950s.
From 1951 to 1955, young drivers in Caldwell and the surrounding area showed off their skills and had fun at Wilkins Speedway. Today, the only evidence that remains of its existence is a "Racetrack Dr" road sign a mile west of Caldwell on Highway 20/26. I spoke recently with some of the people who remember or participated in the racing back then. Following are transcripts of their reminiscences.
Steve Towery, Idaho Historical Racing Society
"Jim Wilkins built the track. He didn't think there was any sense to try to…well, let's put it this way, if you raced at Wilkins Speedway, he didn't want you racing over there [the competing Meridian Speedway], so they formed an association. So you became a card-carrying member of the Alkali Flats Racing Association and then you raced at Wilkins Speedway and only Wilkins Speedway. That didn't work very well …In 1951, he had a body shop in town. I don't know why he decided to build this racetrack. I never learned that from anybody. I just know that he made the decision to do it, and he went out, probably with not a whole lot of help, and just did it himself. The land, I believe, belonged to him and it was out near the intersection of Farmway Road and the Notus Highway."
Jim Hayden, Mechanic
"Jim and I got out of the Navy about the same time. He got out a little before I did in 1946-'47. We were fooling around with old cars. The old Studebaker garage on Kimball and Cleveland is where we set up shop. Jim was the body man and he was working on cars and stuff and I was doing my mechanic work and we ran that for several years. A young guy came up from California. He was a racer and an engine builder and he kind of moved in with Wilkins. They tried to move me out, but I wouldn't move. I said the hell with that, I'm already set up in here. I can't remember this guy's name that got in with Jim.
"Jim was kind of a promoter, he done pretty good promotin' money and stuff. So they got their heads together and leased that little piece of ground. One of the guys around the area had an old Cat and a grader and they built the speedway. Jim round up an old water truck so he could sprinkle the ground. The first couple of races, they had people who stood along the edge away from the fence. It [the fence] wasn't very good. They had no way of collecting money, so they just passed the hat. The best people we had were the Japanese people. There was a labor camp just down from there about a half-mile and on Sundays, boy, they would show up and they would put a few bucks in the pot and kept them going a few years. Then he got some advertising and some billboards, then built a fence around it and it just got bigger, bigger, and bigger.
"Jim never had any money really to do anything with. He was always short of money. But the guys who were racing, they would have a pot for first, second, and third. If you won the race, you might get, depending on the gate, twenty dollars or fifty dollars or whatever. There was not much money around here. It was all farming communities. A lot of the racers were farm kids. Some of them were pretty darn good. This kid from Middleton was a good driver. Another guy, Bill Garber, his dad owned the Ford garage, he was a good driver. Morrie Fuller drove the little car I had but it didn't have much horsepower, so we didn't do well, but it showed good. His brother Bob Fuller, he was a good driver. He drove some of the better cars. Meridian [Speedway] took off and that just about killed our racing up here. He [Jim Wilkins] bought grandstands, you know, some quick-erect grandstands. Meridian was better because it was more down in the city, more or less, and they had some money up there."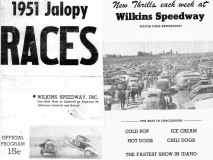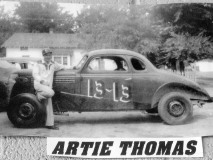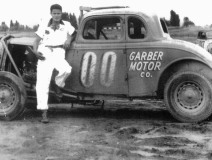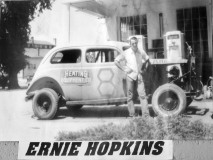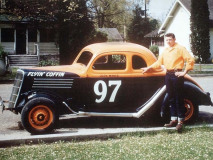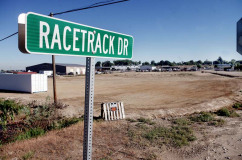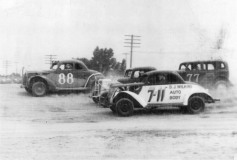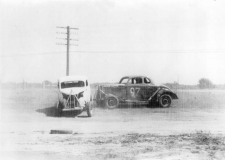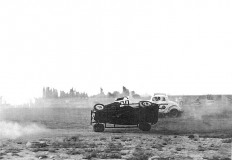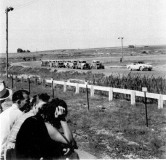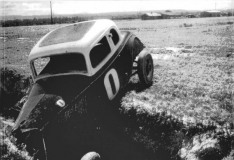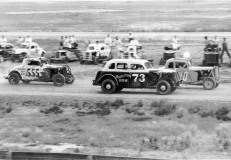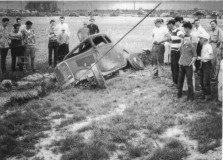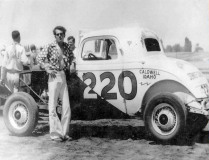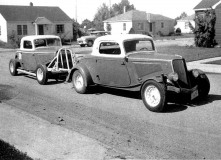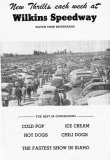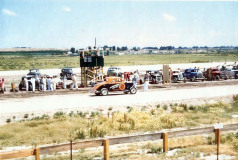 Stan Fuller, Idaho Historical Racing Society
"I don't know who heard who first, if Wilkins heard about Meridian [Speedway] or if Meridian heard about Wilkins, but they both opened up in the summer of '51. Jim didn't want to get into a bidding war with Meridian, so after about four years he saw that Meridian was giving incentives financially, like tow money. First ten cars at Meridian got an extra ten bucks, and ten bucks was a lot of money in 1951. So cars started drifting over to Meridian because they were offering more money and incentives.
"All the cars that were racing at Wilkins was just right there on the way to Notus. They were all from Canyon County, Owyhee County, and eastern Oregon. Nyssa, Adrian, Nampa, Caldwell, Marsing, Wilder. There wasn't a single driver driving over in Meridian, even though it was only eighteen miles from Jim's track. If you would look at Meridian's program in the early '50s, they were only Ada County residents. They had a Meridian [or] Boise address. There was no crossover. They were both very much racing at the same time, Saturday or Sunday afternoon, because they hadn't put lights in until about 1955. Then when Jim decided he wasn't going to get into a bidding war for the drivers, the cars and the fans, he decided to close up.
"The season started Easter Sunday and went into Labor Day weekend and they tried to race every Saturday, which, in today's world, nobody could afford that. But that's the way it was.
"Those guys back in the '50s and '60s, even, were racing in T-shirts and a makeshift helmet, whatever it could be: aircraft, football, anything would have worked. A lot of the guys would use military seats [that] they got from their military experience at Gowen Field or Mountain Home Air Force Base. That's generally where they got their seatbelts. On both tracks, I don't know if they listed how much they made, but sometimes they got a bag of potatoes. A hundred pounds of potatoes plus whatever the prize money was. Fifty to a hundred pounds of potatoes was a big deal, because Idaho was known for its potatoes. Some of them had numbers that pertained to their military experience. Like, PAD was an aircraft. There was a guy with PAE, there was F86, [which] was an aircraft. Those two guys was in the Air Force. So people would come with their own numbers and stick with it generally all through their driving career.
"A guy who had a '34 coupe as a family car and a '34 coupe as his race car: if he had problems with his race car, he'd steal parts off his family car. It's the exact same model. So his tow car was his spare parts car. The only difference is the race car had a front bumper . . . They called it front bumper nerf bar and he had a roll bar in his racing seat and had the windshield knocked out."
Steve Towery
"It [the number of participants] had a lot to do with how many guys crashed one week and whether they got their cars ready to run by the next weekend. These weren't professional racers, they were just having fun. Sometimes they could race, sometimes they couldn't. Sometimes they had the money, sometimes they didn't. But there was always enough to put on a show. There was a large crowd of people that would go. I would say a good thousand people would go to the races out there.
"Some guys didn't like each other, but they got along really well until they are on the track, and then they don't get along. Then afterwards, they may have some words if they have problems with each other on the track. For the most part, all these guys were good friends. They definitely all had something in common, all had a share of the love of the sport.
"There was some guys did well every week. Olan Waner was one of them. He had a fast car, he had a good lookin' car, he also worked at a body shop. So his cars always looked really good, and he was a really confident driver, so he won a lot. Bill Garber was another one that won a lot of races out there. Bill Frost did well, (Clark) Cornell, Morrie Fuller.
"He [Jim Wilkins] was going to try and go that last season and they got rained out two or three times. It was hard to come up with the money to keep it going anyway, and I think he just decided to throw the towel in and that was it. If you would look at pictures of '51, you're looking at turn one and two, which was near the highway …People would drive down the highway and they would stop and watch the races from the road. Well, the next year he put up a wall so that people couldn't do that. I think I saw in some film footage that he added some sponsor names to the wall. He was getting the idea 'cause Meridian, they were getting the idea to get some sponsor money."
Jim Hayden
"The guys were always playing tricks on each other. They'd pinch the gas line together and go, 'Well.' It wasn't too bad, they were a pretty good bunch. They were all buddies, they were all old friends …But when they got on the track, it was all first, one of them has got to be up first. The friendship and camaraderie went by. They'd get in there and tried to win.
"A lot of cars got totaled. We built a race car out of a '36 Ford and my brother, he thought he was a driver, and he got off the corner and hit the back axle and bent the driveline. We didn't know that's what was wrong with it. It never did go well after that. With the driveline bent, it robbed the horsepower. We were all pretty green."
Wendell Platt, Driver
"It was a dirt track. It'd get rough. In between races they'd harrow it down, water it down, pack it down. Generally, it wasn't too bad.
"I liked to run out here better than Meridian because this was a three-eighths-mile track and it had a straightaway. Meridian was round. I liked the straightaway better. I had a nice car, but as far as I could tell, why, we had the roll bar that was too heavy, and it had a good motor, too. The old Fords had the coil down on the front of the flywheel. I put a coil in it that's about that big and it had a light bulb on it. It put out a little more juice than the Ford coil. They got after me because I wasn't stock. Made me take it off. I just took the coil off and ran without one and ran six volts through it. Nobody knew the difference. Actually, the old Ford had only two volts that went to the spark. Anyway, I took it off. It'd burn it up every race day, but you could buy one at the wrecking yard for fifty cents. It was kind of a ball down in the front there. By the time you get through racing, why it was hot and leakin'."
Glen Cornell, Racing Fan
"At the time when they shut the racetrack down in '55, I was only eleven years old. So in between when they opened (1951) and then (1955), I would go over with my dad and, of course, we'd race. My uncle drove and my dad built the engine for the old flathead and maintained the car. We had, I believe it was, a '35 Ford two-door sedan as well as a '35 or '36 coupe that we raced throughout that period of time. The car was called, I believe, "Beetlebaum," in cream and black, sponsored by Middleton Hardware.
"After the races one afternoon, some individual showed up with his car on a trailer and decided he was going to, I guess, show everybody how to hot-lap. Well, he made a few laps or whatever it was and wound up going across the canal back on the road going to Notus. He brought the car back in and loaded it, and if I'm not mistaken, he never showed back up.
"They trashed so many classic cars I'm sure it made a lot of the hot-rodders cringe when they see pictures. I remember one of the pictures of Stan Fuller's dad, Morrie, on his nose [the car digging into the track front first] or whatever in the old [vehicle number] zero. Of course it seems like most of the serious action was on the back straightaway, which would be on the east side of the track. It seems like that's where they tore up more stuff than not. The track ran north and south, if I remember right. One and two turns was on the south end and three and four were on the north end. The grandstands, if I'm not mistaken, were on the west side, which would be the front straightaway.
"No, that was kind of the heyday of destruction on classic cars. A lot of fun, and that's what got me involved in the racing as well as my brother Roger. A list that raced out there: Olan Waner, Bill Garber, Vernon Demark, Ernie Hopkins, Artie Thomas, Wallie Shaffer, Jim Hayden, Morrie Fuller, Marty Galvin, Merle Anderson, and my Uncle Clark. I believe he (Uncle Clark) might have won the championship one year. No, my Uncle Clark was a pretty good racer."