Wiring The Backcountry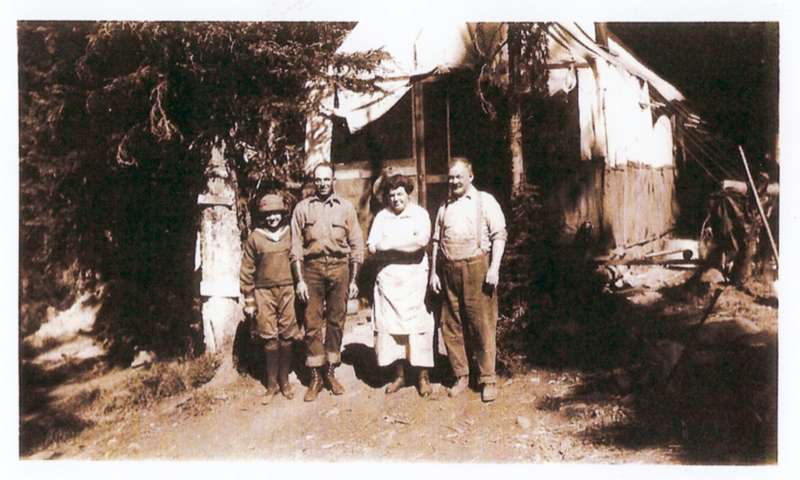 One Day, A Murderer Strolled into Camp
By Betty Derig with Melissa Derig
Photos Courtesy of Betty Derig
When I was a little girl growing up in Weiser, the after-dinner conversation often included my mother and father's stories of their time in what was then called the Idaho Primitive Area, now part of the Frank Church—River of No Return Wilderness. My mother's story about meeting the fugitive Dan Ruth always fascinated me. Dad often talked of wrangling his packhorses up the trail from the Payette National Forest Service headquarters at Big Creek to Thunder City and beyond. He loved the scent of pine all his life.
In the summer of 1923, my father, the newly married William M. Carson, participated in wiring the backcountry. Crews were hired to string telephone wire from tree to tree along a well-known stretch of the Idaho Primitive Area. This work was to put Big Creek Ranger Station in communication with remote Forest Service outposts as well as with mines and ranches throughout Chamberlain Basin, the Thunder Mountain area, and beyond. Packers were hired to carry food supplies and wire to the telephone camps as they moved deeper into the wilderness.
My father arrived at Big Creek in July with his string of seventeen packhorses. Deer filled the meadow surrounding Big Creek, chewing on the strings of his saddle at night. Eventually, they became so gentle they ate from his hands. Keeping a journal of activities was required for all Forest Service employees. Now in the possession of my son, Paul Derig, my father's journal gives us a peek into the life of a packer during the months of August, September, and the first part of October 1923. Twice he records receiving monthly checks of $60 and $62, plus $1 a day for each packhorse he used. Although he had seventeen horses, usually only nine or ten of them were on the trail at any one time.