Zucchini Bread/Crockpot Casserole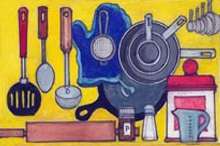 By Amy Story
Lovely Lady Lemon Zucchini Bread
INGREDIENTS
1-1/2 c. all-purpose flour
1/2 tsp. baking soda
1/4 tsp. baking powder
1/4 tsp. salt
3/4 c. sugar
1 c. finely shredded unpeeled zucchini (do not squeeze or dry the shredded zucchini)
1/4 c. cooking oil
1 egg
2 Tbsp. lemon juice
Zest of two lemons
GLAZE INGREDIENTS
1/2 c. powdered sugar
1 tsp. vanilla
1 Tbsp. lemon juice
1 tsp. lemon zest
*The glaze amounts can be doubled if desired.
PREPARATION
> In medium bowl, combine flour, baking soda, baking powder, and salt. Set aside.
> In separate bowl, combine sugar, zucchini, cooking oil, egg, lemon juice, and lemon zest. Stir to combine.
> Add the dry ingredients from the first bowl to the other mixture and stir just until they combine.
> Spoon batter into greased bread pan.
> Bake at 350 degrees for 50-55 minutes or until golden brown and set.
> Cool in pan on a wire rack 15 minutes, remove from pan and cool.
> Once cooled, combine ingredients for glaze and drizzle over bread.
Note: I brought multiple loaves of this delectable lemony goodness to several campouts, family picnics, and a Labor Day celebration, with little to no leftovers. Cutting the slices in half, which meant they could be consumed in about three adult bites, made it easy for us to snatch them off the plate in passing. This is also a breakfast delight that goes oh-so-well with coffee, tea, hot chocolate, or a tall glass of milk.
Crockpot Crush Casserole
INGREDIENTS
2-3 c. frozen Tater Tots™
1 lb. extra-sharp cheddar cheese, shredded, grated, or diced
2 lbs. Polish or other style link sausage of choice, even summer sausage would work, or Lit'l Smokies™ cocktail sausages
1 or more c. diced onions
Several thin slices of jalapeños, optional
1 Tbsp. minced garlic, can use powdered if desired
*Season as per taste but honestly, there are so many flavors in this combo, we needed no extras.
PREPARATION
> Put all ingredients into a crockpot on high for one hour in the morning.
> Adjust to low setting for rest of day, or at least a few more hours, which will fill your kitchen with a cozy "let's eat" aroma perfect for a chilly autumn season.