After-School Writing Clubs Proliferate in Boise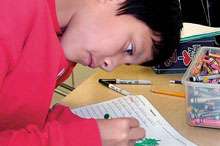 By Heather Glass
When I started a writing club at W.H.Taft Elementary School in Boise in 2001, the principal and I expected nine to ten students to attend.We were stunned when forty-three students piled into the classroom to try their hand at writing. After completing the fourteen-week program, thirty-five young authors proudly presented their hardbound books at an authors' celebration.
Since then, the enthusiasm has spread. More than seven hundred children have participated in twenty-eight writing clubs in the Boise School District alone. No longer able to lead every club, I developed the WriteOn!™ writing club program and shared my expertise,materials, and strategies with parents, volunteers, and teachers willing to lead clubs at their schools.
After the third successful year of leading writing clubs, I compiled everything I had developed and published the Write On!™ instructor's manual. This manual includes all the ideas, strategies, forms, and examples necessary for volunteers to lead successful after school writing clubs at their schools.
Many of the writing club instructors are parents wanting to be more involved in their children's schools. Others are writers seeking meaningful community involvement in their fields of expertise.
Fourth through sixth-graders meet for weekly seventy-five minute sessions during the fourteen-week  program.They each write, revise, and illustrate a hardbound book complete with copyright, dedication, and author page. Students go through a seven-week step-by-step revision process, revising their beginnings and endings, adding voice and details, and improving vocabulary, sentence fluency, and titles.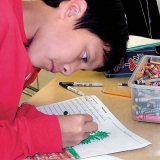 The young authors also participate in weekly activities for learning creative writing and illustrating techniques, writing to prompts, sharing their writing, and making two-by-three-inch hardbound books called "Shorty Stories."
The writing club program concludes with the Authors' Day celebration, where the authors read their professional-looking books aloud to friends and family. As of March 2005, students' finished books are also published on the Internet.
Overall, the writing club takes children on a wonderful journey of writing, reading, illustrating, sharing, and nurturing their potential. The skills and interest they develop in the writing club definitely influences their future.
The continued high numbers of students participating in the after school writing clubs have led to their success and rapid growth.The only problem facing the writing club is too many children signing up for the limited number of spots available. In the manual, I suggest limiting the size of the writing club to ten to twenty students per school.Yet thirty-five to seventy-five students apply in each school.
These students have caught the fever. They have heard from other students how much fun the program is. They have seen friends' books and now want to make books for themselves. And although this enthusiasm is great, it isn't the only benefit of the writing club.
Parents, teachers, and young authors alike have reported that participation in the writing club increases
student interest in writing, reading, and illustrating.Measurable and marked improvements are also seen in students' descriptive writing abilities.
Because the writing club program uses the "Six Writing Traits" terminology popular across the nation, the guided instruction is consistent with what teachers use in their classrooms.
The program emphasizes and reinforces state standards for fourth through sixth-grade student achievement. Not only are these skills discussed in the writing club, but the children actually apply these concepts to their own work. It is documented that students in the writing club tend to focus more on writing in their classrooms, read more, and write more.
To date, the program is operated through a partnership of schools, the Laura Moore Cunningham Foundation, and my company,Write On!™ Publishing. The Laura Moore Cunningham Foundation has been the sole provider of funds for the past three years.
But, because of increasing interest in the writing club program from children, schools, and parents, a nonprofit foundation, called Publishing Young Authors, has been created. Funding collected through the foundation will help expand writing clubs to more schools. The goal is to have the writing club programs in forty Idaho schools during the 2005-2006 school year.