Dietrich Native Dan Costello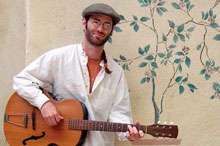 Teaching, Gigging—Just Playing Music for the Love of It
By Ryan Peck
If you were to whistle him a melody, Dan Costello could instantly play the melody back for you on his guitar. But it's not just his technical prowess that makes Costello such a great Idaho musician–it's his love for music. It's a love he discovered during his childhood in the Magic Valley.
Born in 1975,Costello turned on to music when he was five years old.He spent the first eight years of his life in the out-of-the-way town of Dietrich,where his dad worked for the U.S. Bureau of Land Management. Living in such a small town did not afford the young Costello the luxury of being surrounded by lots of friends his age. Costello filled this void by exploring the corners and closets of the large farmhouse where he lived. One of his first finds was a baritone ukulele.
By the time his parents realized his discovery, kid Costello had figured out how to play chords on it. Costello then began searching the farmhouse for other ways to make music. He found harmonicas, horns, and an old Spanish guitar, albeit a guitar he could not play. "Mom had a guitar, but the strings stood way off the fret-board," he told me. "My little hands couldn't physically play it!" At age thirteen, as a junior high school band member in Burley, Costello finally began playing the guitar–his instrument of choice.Costello attributes his success in music largely to the Idaho public school system.The music programs at Idaho public schools enabled Costello to be exposed to every instrument he could dream of.He became a vocalist with the aid of Idaho's choir teachers. "Idaho schools have always been so great about supporting music and the arts," Costello says. "Students that would have otherwise not been able to play music have been able to because of public schools." Costello's parents also strongly encouraged his music interest, right from the start. Costello even builds specialized,wooden hand drums, called cajons, with his father.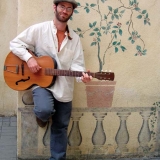 In 1993, Costello began attending Boise State University as a music performance major. When not in class, Costello would frequently find warm patches of campus grass to lounge on for solitary practice sessions or jams with friends. On a fall day in 1994, he was jamming on campus with drummer friend Scott Lindbloom, when a quiet guy walked up and asked if he could play bass with them.The reserved guy turned out to be freshman music performance major and bass player, Rob Hill. "We were a bit nervous of Rob because his socks matched his shirt . . . after we played with him everything was OK," Costello says with a laugh. Costello, Hill, and Lindbloom soon formed a band called Stella (named after the old jazz and blues-favored Stella brand of guitars). The three musicians began writing sophisticated, progressive, acoustic songs that showed off each member's chops–meaning that everyone got to take solos. After college wound up for Costello in 1998, the trio increased its emphasis on gigging, playing, as Costello said, "nearly every stage in Boise." In 2002, Stella released a self-titled CD. Earlier this year, Stella took second place in the "Northwest Quest for the Best" event, and plans to release a new CD during the summer.
In addition to Stella, Costello started another band with bassist Hill called Plan B–currently a weekly mainstay at Tom Grainey's Sporting Pub, a downtown Boise club. Plan B gives Costello and Hill a chance to write and explore more pop-oriented music–something that doesn't quite fit in Stella's repertoire. Says Costello: "Stella remains (our) original music band . . . (Plan B) is for keeping venue owners happy." It doesn't end there. In addition to a burgeoning solo career, Dan also plays backup for Boise's Einstein's Itch, Boise's Big Fuzz Ensemble, and the Mountain Home jazz group that calls itself The B3 Sides. Costello is also a past member of longtime Idaho resident Ned Evett's group (for additional information on Evett, see the February 2005 issue of IDAHO magazine). Among musicians, Dan is known as the guy you can call when you need a guitarist (or backup singer, harmonica player, and so forth) in a pinch. He can show up never having heard the songs and sound like he has played with your band for years. Artists such as Old Boise Guitar owner Johnny Pisano, singer-songwriter Douglas Cameron, and Boise's Rebecca Scott all speak of Costello's amazing talents. But even with all the respect and kudos, Costello doesn't have a big desire to be adored by the masses. He does it for the love of it."I don't need to be an icon," he says."I would be just as happy if people would close their eyes and just listen to the music." His love has also helped him be a teacher, giving lessons out of one of the Old Boise Guitar studios. "Teaching is something I love," says Costello. "I am a better teacher now that I have found my own voice and solidified my art."
Making a living playing music means Costello plays a lot of gigs. Keep your eyes peeled and ears on and you will probably catch Dan doing his thing. And he plans on being around for a while, always calling Idaho home. He says: "You could spin me around the globe and then plop me in Idaho somewhere and I would immediately figure out that I was in Idaho . . . I can't imagine calling anywhere else home."