August 2018 Calendar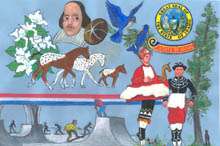 By Les Tanner
Cancellations or changes due to weather, illness of performers, and other such things, although rare, are bound to occur. Double-checking with the event coordinators about locations, dates and times is always a good idea.
1 Free Food & Fun for Youth: 3:30 PM, Library at Cherry Lane, Meridian
1 Responsible Riders Motorbike Class: Your OHV certificate of number sticker pays for the class. Preregistration is required. Contact HYPERLINK mailto:[email protected]@idpr.idaho.gov to register and obtain information. 6:00-9:00PM, Little Gem Cycle Park OHV Training Area, Emmett
1-4 Plein Air Art Festival, Driggs
1-4 Caribou County Fair, Grace
1,8,15 Summer Concerts series: From 6:00 – 9:00 PM at the new Downtown Commons (Main & Hansen)! Live, family-friendly entertainment, featuring the Market On Main, Food, Drinks & MORE! Twin Falls
1-29Farmers Market: WEDNESDAYS, 3:00 PM, Indian Creek Park, Caldwell
1-29 Alive After Five Summer Concert Series: WEDNESDAYS, The Grove, Boise
2 Responsible Riders Motorbike Class: Your OHV certificate of number sticker pays for the class. Preregistration is required. Contact HYPERLINK mailto:[email protected]@idpr.idaho.gov to register and obtain information. 6:00-9:00PM, Black Rock Canyon OHV Parking lot, Pocatello
2-30 TNT Thursday: THURSDAYS, Kids 10 and up meet to play video games, Public Library, Hailey
3 Nampa's Fitness in the Park- Adult Paddleboard Fitness: 12:00 PM, Lincoln Pool, Nampa
3 First Time Fishing Program: A fun-filled, outdoor experience for first-time adventurers. For beginner youth 5 – 12 years of age. This event begins at 9:00AM and runs until noon. A park ranger will teach basic safety, introduction to fishing and kids will have a chance to learn how to clean a fish. Fishing poles and bait will be provided. Bring water and snacks This event is limited to 20 participants, so call Juanita Jones at 208-824-5916 to register your child. Castle Rocks State Park, Almo
3-5 Art on the Green: Handcrafted works in glass, clay, leather, wood, metal and fiber from the local artists. Kids can create their own special art in the hands-on-art area. There will be over 190 artists, and a variety of musicians and performers. Food will be served by wonderfully dedicated volunteers. Enjoy free entertainment all weekend long. North Idaho College, Coeur d'Alene
3-5 Music and Harmonica Festival, Yellow Pine
3,10,17 Silver Screen on the Green: Free family movies, 8:30-11:30 PM, Optimist Park, Nampa
3-24 Movie Night in Meridian: FRIDAYS. Settlers Park, Meridian
3-31 Star Gaze at Bruneau Dunes State Park Observatory: FRIDAYS: Check the site parksandrecreation.idaho.gov/star-gaze-bruneau-dunes-state-park-observatory-194 for times and costs. Mountain Home
4 Pocatello Raceway Races, Pocatello
4 "I Love Island Park" Annual Fundraiser & BBQ, Island Park
4 Museum Work Day: Volunteers welcome; 8:00AM; Lunchtime Seminar (bring your own lunch): Dr. Pat Fields, Olivet College and OJSMNH: "A Look at Climate Change Throughout Time"; Location: the O.J.Smith Museum of Natural History, Boone Hall, The College of Idaho, Caldwell
4 American Falls Day: Community event with parade, food, events, activities, and fun for everyone! City Park, American Falls
4 Treasure Valley Children's Theater presents: Reading Rocks! or The Mystery of the Missing Stories, 11:00 AM, Library at Cherry Lane, Meridian
4 Become a Junior Ranger for Idaho: For kids 6-12. Come join us and have fun learning how to be a Jr. Ranger. Bring a lunch, bottle of water and wear sunscreen and sturdy shoes (no open toe shoes please). Parents are welcome to stay and help their child become a Jr. Ranger. 10:00am to 12:00pm. Three Island Crossing State Park, Glenns Ferry
4 Community Pool Party: Come out for a FREE family and community pool party. Cool off in the pool, blast down the slides, and tour a PACT EMS ambulance! All ages are welcome! This is a family-friendly event. 8:00-10:00PM, Hamilton-Lowe Aquatics Center, Moscow
4,18 Raceway Races: Enjoy car racing at the Pocatello Raceway, Pocatello
4-5 Auto cross with Snake River Sports Car Club
of America: west parking lot, Expo Idaho, Garden City
4-5 1860 Days, Pierce
4-5 Oneida County Horse Races: Parimutuel Horse Races held at the Oneida County Fairgrounds in Malad. All Breed Derby, Quarter Horse Maturity, Maiden Frolic, Overnight Futurity and Kid Stick Horse Races, Malad City
4-25 Long Camp Farmer's Market; SATURDAYS, Kamiah/Kooskia
4-25 Farmers Market: SATURDAYS, Idaho Falls
4-25 Saturday Cartoons: SATURDAYS, 9:00AM-12:00 Noon, Kenworthy Performing Arts Centre, Moscow
4-25 Main Street Market: SATURDAYS. Meridian
4,11,18 Summer Saturday: Let the Boise WaterShed Environmental Education Center introduce you to your watershed through hands-on exhibits, public art and the most unique water feature in town: A simulated Boise River! 10:00 AM–3:00 PM, Boise WaterShed, 11818 W. Joplin Road, Boise
5 St. Gertrude Historical Museum Raspberry Festival, Cottonwood
6-10 Power County Fair & Rodeo, American Falls
7 Kilroy Coffee Klatch: 10:00-12:00 at Nampa's Warhawk Air Museum; FREE for ALL veterans and ALL veterans are welcome; Coffee and breakfast treats are served at no charge. No RSVP required – just show up; Nampa
7-11 Jerome County Fair, Jerome
8-11 Bonner County Fair, Fairgrounds, Sandpoint
8-12 Bannock County Fair & Rodeo, Downey
9-12 Pepsi Nightfire Nationals, Firebird Raceway, Eagle
9-12 Shoshone Bannock Indian Festival: Pow wow, Dance Competition, Indian Relay Races, Parade, Rodeos, Arts and Crafts, Traditional Handgames, Fun Run/Walk and more! Festival Grounds, Fort Hall
10 Sun Valley Center Arts and Crafts Festival, 10:00 AM, Atkinson Park, Ketchum
10-11 Elk City Days, Elk City
10-11 City of Rocks Star Party: Solar viewing from 2:00 PM to 6:00 PM at the Smoky Mountain Campground. Nighttime telescope viewing starting at 9:15 PM at the Lodge site. Co-hosted with the Magic Valley Astronomical Society. Park entry fees apply. Castle Rocks State Park, Almo
10-11 Xtreme Outdoor Idaho: Everything outdoor! Trailers, boats, ATV's, backpacking, camping, hunting, paddle boards, kayak, fitness, cross country skiing, snowboarding, biking, Dutch oven, photography, archery, food, bounce house, face painting, lots of demos and more! Mountain View Event Center, Pocatello
10-12 Accordion Jubilee, Wallace
10-12 Huckleberry Festival, Donnelly
11 Chubbuck Days: Enjoy a variety of fun family activities, such as, helicopter rides, car show, Eastern Idaho Scottish Games Championship, carnival games, food booths, entertainment and much more. Chubbuck
11 Sing Along with Don Ritchey! 12:30 PM, Library District, Meridian
11 Noodle Mania: 1:00 PM – 4:45 PM. Come play and float as we toss all our foam floatable noodles into the pool at Lakeview Water Park, Nampa
11 Butch Cassidy Cook Off and Reenactment, Montpelier
11 "Beneficial Insects of the Palouse": Learn about the diversity of insects on the Palouse. Program is free and open to the public. Children 12 and younger must be accompanied by an adult. Limit 25 children per program. Children will receive live lady beetles to release! 9:45-11:00AM, U of Idaho Arboretum, Moscow
11 Arts & Crafts Festival, Atkinson Park, Ketchum
11-12 Fort Hall Championship Rodeo, Fort Hall
11-12 Festival of the Arts: A free community event featuring over 190 artisans, food concessions, free children's activities, entertainment, juried fine art show. 10:00-6:00 Saturday, 10:00-4:00 Sunday. Lakeview Park, Nampa
11-18 Cassia County Fair & Rodeo, Burley
12 Nampa's Fitness in the Park- Family Aqua Zumba: 12:00 PM, Lincoln Pool, Nampa
13-18 Bear Lake County Fair, Montpelier
14 84th Annual Chamber of Commerce Buckaroo Breakfast: 6:30 AM, Caldwell
14 84th Annual Caldwell Night Rodeo: YMCA Family Night; 6:30 PM, Rodeo Grounds, Caldwell
15-18 Idaho County Fair, Cottonwood
16-18 Gooding Pro Rodeo, Gooding
17 Blue Star Museum: A collaboration among the National Endowment for the Arts, Blue Star Families, the Department of Defense, and more than 2,000 museums across America to offer free admission to the nation's active duty military personnel and their families from Memorial Day through Labor Day Free to Active Military personnel and up to 5 members of their family; Idaho Museum of Natural History, Pocatello
17-18 Council Mountain Music Festival: 6:00 PM, Veterans Memorial Peace Park, Council
17-18 Kamiah KOA "Old Time Fiddlers Campout", Kamiah
17-18 Huckleberry Festival: All things Huckleberry; Live music, dancing in the streets, huckleberry pancake breakfasts, street vendors, kids activities on the Northern Pacific Depot Museum lawn, a dunk tank AND a 5K Walk & Run, Downtown Wallace
17-18 Joe Mama's Car Show, Jerome
17-19 Chief Lookingglass Pow Wow, Kamiah
17-19 Bannock County Bluegrass Festival, Pocatello
17-20 Bear Lake Mountain Man Symposium, Montpelier
17-26 Western Idaho Fair, Expo Idaho, Garden City
18 Ice Cream Zoofari, Zoo Idaho, Pocatello
18 Franklin County Car Show, Preston
18 Bug Day, Idaho Botanical Garden, Boise
18 Caribou County Mud Challenge: 4×4 Mud Race at Kelly Park. Dash for Cash, Tough Trucks. Soda Springs
18 Bull Bonanza: All Bulls Rodeo! Come see our cowboys ride the meanest, orneriest bulls in the west! Preston
18 WaterShed Exploration Series – "Water Bugs – Little Critters, Big Deal!": Take a short hike to the Boise River for the opportunity to learn about macroinvertebrates (water bugs) and what they tell us about the health of the Boise River with City of Boise Biologist Dorene MacCoy. Then learn how to tie a fly similar to one of the macroinvertebrates that you discovered! Water shoes recommended. $10 per person. Pre-registration is required one week prior to program. Register at parks.cityofboise.org/register-for-classes/; 9:00 AM-12:00 PM, Boise WaterShed, 11818 W. Joplin Road, Boise
18 Portneuf Greenway's Riverfest, Lower Ross Park, Pocatello
18-19 Wild Weippe Rodeo, Weippe
19 Driggs Summer Arts–Symphony on Sunday, City Plaza, Driggs
21 Idaho Gem Club Meeting: This month's meeting is a pot luck. Guests are welcome and encouraged to attend. Bring a dish and join in on the Fun. 6:30 pm, Old Timers Shelter in Ann Morrison Park, Boise
23 Music Adventures with Paige Moore: 6:00 PM, Library District, Meridian
24-25 Intermountain Pro Rodeo Finals: Bull Riding, Saddle Broncs, Bareback, Roping, Steer Wrestling, Barrel Racing championships, Bannock County Event Center, Pocatello
24-25 Sagebrush Arts Fest: Features artists and craftspeople from Southeast Idaho and the Intermountain West. Extensive children's art activities. ISU, Pocatello
25 Henrys Fork Music Fest, Ashton
25 World Famous Winchester Rodeo, 6:00 PM, Winchester
25 Annual Greek Festival: Gourmet foods and ethnic Greeks Dance Performances. Free admission. Held at the Greek Orthodox Church, Pocatello
25 Southeast Idaho Harvest Festival: Everything fall, potato expo, obstacle course, petting zoo, bounce house, face painting, car show, pumpkin painting, wagon ride, craft market, corn on the cob, food, and much more! Portneuf Wellness Complex, Pocatello
25 Pooch Park Stroll & Splash: 9:00am – 1:00pm. Come and enjoy Nampa's largest dog festival! Bring your dog(s) and family members to participate in a scenic one mile walk around Lakeview Park. After the walk, Lakeview Water Park will open and the dogs will have the opportunity to splash around in the swimming pool. Enjoy contests, raffles, and pet friendly vendor booths as you support a great cause because all proceeds from this event go toward the continued development of the Nampa Dog Park, Nampa
25 2018 Midnight Drags, 7:00 PM, Firebird Raceway, Eagle
25Salmon Festival, Stanley
25 Classic Car Auction, Nampa
25-26 Warbird Roundup: Look in the sky! It's a bird! It's a plane! It really is a plane! The Warbird Roundup features classic airplanes flying in the air. Guest speakers will be joining the event. Warhawk Air Museum, Nampa
25-26 Boise Comic Arts Festival: A FREE family-friendly event that inspires creators of all ages, cultivates a comics community, showcases local and international artists, and creates opportunities for discovery and collaboration, JUMP, Boise.
29-9/3 Twin Falls County Fair and Magic Valley Stampede: Monster trucks, classic country, and a fast-paced rodeo: It's all at this Magic Valley celebration. Check out traditional fair competitions, test your skills on the fairway, and check out the cowboys and cowgirls risking it all during the PRCA rodeo. Twin Falls County Fairgrounds, Filer
31 Senior Citizen Spaghetti Feed, Kamiah
31-9/2 BBQ Days, Kamiah
31-9/3 Buffalo Run Antique, Collectibles, and Craft Show: Antique collectibles and craft show located at Buffalo Run RV Park and Cabins in the Last Chance Area, Island Park
31-9/8 Eastern Idaho State Fair, Blackfoot.