For Love of the Small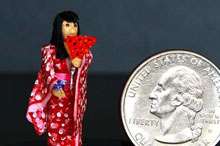 The Passion of Miniaturists
By Sue Buchel, Kathy Mouser-Hickman, and Rebecca Wright
Photos courtesy of the Mini Les Bois Club.
Three of the Mini Les Bois Club's members tell personal stories of their fondness for little things.
BY SUE BUCHEL
As a girl, I was never really interested in dolls or dollhouses. I did, however, covet my brother Joe's plastic farm set—the little cows, pigs, horses, sheep and chicks, the barn and the fencing. Joe was the one who led me into the world of "minis" some fifty years later. He had started making dollhouse accessories after his retirement, a hobby that did not need a very big workshop. About four years ago, he decided to be a vendor at the Mini Les Bois Miniature Show in Boise. Since I live in Garden City, I offered to help staff his booth, though I was not really into miniatures.
As the weekend progressed, I marveled at the intricate items artists from across the Northwest could make for dollhouses—afghans crocheted from single strands of floss, candlesticks turned on a micro-lathe, tiny furniture tole-painted by hand. I learned that not only did people work in the standard dollhouse scale of one-to-twelve (one inch corresponds to one foot), but some artists created tiny objects in half-scale of one-to-twenty-four (or a half-inch corresponds to a foot), others even constructed worlds in quarter-scale of one-to-forty-eight, and a few crazies somehow created dollhouses and furnishings in one-to-144 scale (often called "a dollhouse in a dollhouse").
By the end of that weekend, I had downsized!