Heroics on the Lochsa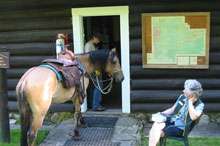 Saving a Ranger Station, Again and Again
Story and Photos by Jim Fazio
I'm sitting on the porch of a log building that once served as the assistant ranger's house at Lochsa Historical Ranger Station in the Clearwater National Forest. It's now the visitor center and first stop on a self-guided tour of the site, which is on the National Register of Historic Places, but in 1934, it was one of the buildings saved by the heroics of rangers surrounded by raging wildfire.
Looking through the trove of historical items in the visitor center one afternoon, I came across a typed account of this saga, which helped me appreciate how fortunate we are to have this place. The story was by H. D. Weaver, a Forest Service employee of the period. So far as I know, it has never been published.
Before I tell that tale, I should explain that each summer my wife Dawn and I look forward to spending a week in a rustic but fully furnished cabin here in the woods, miles from the nearest neighbor. Normally, such an experience would probably cost more than a hundred dollars per night, but to us it is free, because we're the ranger station's hosts for that week and our "pay" is the cozy, one-room cabin.