Hot Chocolate Bar/Popcorn Party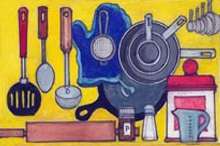 By Amy Larson
Hot Chocolate Bar
Pumpkin Spice:
1 ½ tsp. maple syrup, ½ tsp. pumpkin pie spice, 1 c. whole milk or half and half, 1 tsp. unsweetened cocoa powder
Peppermint:
1 c. half and half or milk , ½ c. milk chocolate chips, 1 Tsp. peppermint extract Orange:
1 c. half and half or milk, 1 Tbsp. sugar, grated orange zest to taste, 3. Oz. dark chocolate squares Mexican:
1 c. milk or half and half, 6.oz. finely chopped or grated dark chocolate, ½ tsp. cinnamon, cayenne pepper to taste
Caramel:
½ c. milk, 6 oz. chopped chocolate, ¼ c. heavy whipping cream, 3 Tbsp. caramel sauce
White Lavender:
1 c. half and half, ¼ or more lavender buds, ½ c. white chocolate chips
Toppers:
Shaved white chocolate, mini chocolate chips, mini marshmallows (white or multi-colored), candy sprinkles, cinnamon, mint flakes, crushed candy cane, whipped cream, sea salt
Note: Steamboat Gulch above Idaho City is a favorite of ours during the winter months. I used to get a little tense, watching my two sons and daughter tearing down those sledding hills among dozens of other sledders and passersby, but they always had a blast.
Nothing hits the spot after a day of hitting the slopes or sledding hills like a steaming hot mug of cocoa. Don't have all of the liquid flavors available? You might have more than you think, enough for a new family favorite, the Hot Chocolate Bar.
Popcorn Party
Apple pie:
Cinnamon, apple pie spice, and vanilla to taste. Stevia or sugar to taste. Sprinkle onto popcorn until desired flavor achieved
Taco:
Taco seasoning to taste (I discovered this one as a teenager, cruising the kitchen for something to eat. It's addictive!)
Sea Salt & Vinegar:
Malt vinegar, fine sea salt to taste
Cheese & Garlic:
1 Tbsp. grated parmesan
¼ tsp. sea salt
¼ tsp. dried thyme
¼ tsp. garlic powder
Note: Curl up during the chilly months with a soft plush blanket, a good movie, and a big bowl of the flavored popcorn that best fits your mood.