Houseful of Trouble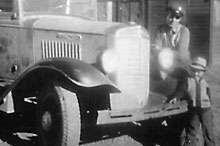 War and Brotherhood
By Glenn Butterfield
In the spring of 1941, my family moved from Pocatello into the first of three houses we were to occupy over several years in Mackay.
I was four years old and had three older brothers named Johnie, Eddie, and Gene, and a younger sister Hazel, who was one-and-a- half. In each of the three houses, the arrival of four boys was soon followed by trouble.
House One
A few days after we moved into the first place, our parents went shopping with Hazel while I took a nap, until I awoke to a commotion. I leapt up and ran into the front yard, where my three brothers were excitedly bent over a small irrigation ditch. Coming up behind them, I saw pots and pans burning in the water as they floated along.
"What's happening?"
"We're having a naval battle!"
They had put gasoline in the pots and pans and lit them afire. Some of the fuel spilled onto the water and continued to burn, and their excitement rose with the increasing height of the flames. Of course, I also got very excited, running back and forth, and then I jumped over the ditch. Not good. The flames from a battleship leapt up and my pant leg caught on fire.
I danced as if I were doing a Scottish reel and my brothers knelt in front of me dumbfounded, their mouths agape. Someone else's mom bolted out of a house, threw me onto the gravel street, and rolled me in the stones. I don't remember what happened to my brothers as a result of that incident, but it probably wasn't pleasant. Whoever the angel of mercy was, and wherever she is now, I hope she gets an extra helping of angel food cake. My brother Johnie thinks it may have been Mrs. Lammon, who, with her husband, would save us from other misadventures.