I'm Listening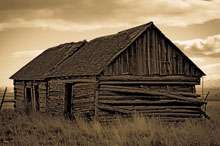 Encounter with a Familiar Stranger
Story and Photo by Katherine R. Roberts
Early in the spring, my best friend Susan and I decided to travel north from Salt Lake City on a grand adventure through the southern half of Idaho.
During the trip, we wandered across an abandoned farm in Malta—or more precisely, we zoomed past it on our way to Boise and I nearly broke my neck trying to keep my eye on it as we went by. We flipped a U-turn and pulled off the road into the grass, yellowed from the winter. The little barn was amazing in all of its rotting grandeur. I felt the abandoned, dilapidated structure screaming for attention at every passerby, even though at the same time it was smothered in a heavy silence.
We stepped out of the car and as the doors shut we realized the echo of the slamming was the only sound to be heard for miles, except the occasional bellowing of a cow. Old grass, dry and dead, crunched under our boots as we crept toward this beautiful place that seemed to have called our names. We walked with a sense of caution yet couldn't repress the desire to explore the site, which I felt was in desperate need of company. As we approached, I placed my hand on the outer wall and mentally noted that a false move was likely to result in splinters and in cursing our decision to stop here. Leaning into the open doorway, my first impression was of cobwebs and a rotted wooden roof. I inhaled dry dust, its texture like baby powder.