Life Imitates Art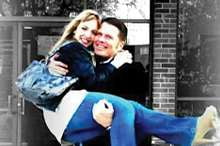 Talk about Romance
By Angela Ruth Strong
Photos Courtesy of Angela Ruth Strong
Twelve years ago, I thought my then-boyfriend Jim and I were going to a movie to set up a couple of our friends on a blind date. Jim's buddy was in a wheelchair, so as we walked into the back of a theater owned by the Lehosit family in Hayden, I looked around the dark room for a place to park a wheelchair.
Jim didn't seem concerned about his buddy. "Spencer, roll back there."
Surprised by this insensitive remark, which was out of character, I chided, "Jim!"
"It's starting," he said. "I don't want you to miss anything. Sit down."
That was weird, but Spencer waved me into a seat.
When Jim sat, he dropped a water bottle that rolled all the way to the front of the theater. He was acting strangely. I sat next to him, stuffed my face with caramel corn, and watched the green Paramount mountain fill the screen for a movie trailer.
A couple of stills from my favorite romantic comedies flashed before us. Then the words, "But the greatest love story is yet to be told." This was followed by a photo of Jim and me.
I froze. Around the caramel corn in my cheek, I asked, "Is this real life?"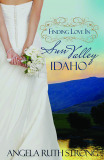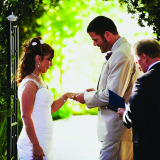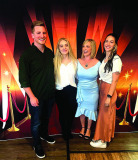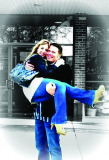 What I thought to be a movie trailer turned out to be a slideshow. I watched memories of us dating and getting to know each other's families. It was amazing—and crazy that all the people in front of us had come to watch a movie but instead they were watching us on the big screen. I could hear them laughing and crying at the images, and I wondered if any of them recognized me.
Afterwards, the lights flashed on and Jim dropped to one knee. I don't remember anything he said. I just remember waiting until he stopped talking so I could answer, "Yes!"
It turns out all the movie-goers were actually friends invited by Jim to be part of his proposal—except for one couple who accidentally went into the wrong theater. But they congratulated us and said they were happy to be a part of our big moment.
It was the stuff of romance novels—as I well know, being a romance writer—but it was also real life. Nowadays, we live in Meridian and have raised six kids between us. We've been through house floods (yes, plural), car wrecks (yes, plural), Achilles surgeries (yes, plural), heart surgery, and breast cancer (hopefully just once). There have been a lot of rough times, but he's still my hero and inspiration for the books I write.
Recently, we got to recreate the magic of Jim's theater proposal when one of my books was turned into a movie. This process had begun years earlier when my debut novel, Finding Love in Sun Valley, was optioned for film. Unfortunately, a whitewater rafting scene in it posed too many challenges for production, but the producer remained interested in my writing, and I turned that first book into a series, with the hopes of her optioning another one. After writing four more books based on a family of brothers, it happened: Jim and I got to go on set and be extras for the movie based on my novel, Finding Love in Big Sky.
The film, which was released in October, had multiple offers for a premiere showing but I wanted to open it where my own love story had begun. We returned to the same theater and decided to make our event a fundraiser to help out children with cancer. My producer's husband had recently gone through his own cancer battle, and she donated her portion of the proceeds to Camp Rainbow Gold at Idaho's first medial camp near the Sawtooth Mountains. We raised more than two thousand seven hundred dollars at the one showing.
It took five years from when the book was optioned to when it was filmed, and I'd been talking about it all that time. Every year, my publisher would tell me, "They plan to film this year," but every time when it didn't happen, my hope would diminish a little more. Finally, in spring 2021, when I was in line at the grocery store, I got the call. "We start shooting tomorrow."
Probably because I'd been talking about it for so long, we received incredible support from everyone who knew us. Friends came from other states to attend, and I literally rolled out the red carpet for them. For Christmas, my son had my book cover blown up like a movie poster, which we put it on display at the entrance. My MC, Kimbra Shaw, stood at the door with a microphone, interviewing guests about how they knew me. My writing group sold books and handed out lip balm on which I'd had my logo printed. All the while, I signed autographs and took pictures in front of a big backdrop.
I even wore a dress designed to display a necklace that was featured in the movie. It amazed me that I had simply imagined a piece of jewelry in my brain, described it in the book, and, like magic, it became a prop. The necklace was a gift from my husband—a priceless memento.
Even though having one of my books made into a movie had long been a dream, the reality blew away my imagination. It was surreal to sit in a theater and watch my story come to life as the audience reacted. Characters who once had been only imaginary friends now caused others to gasp, laugh, and cheer. They were just like the audience at my wedding proposal.
My life had come full circle. I think the reason I'm able to write romance is that I have my own. Love isn't only about the magic of moments like my movie theater proposal—I know too well it's about overcoming all the challenges between those moments and supporting others to help them through.
Idaho has been not only a stunning setting for writing stories, but the backdrop to my real life. Besides the wonder of mountains and rivers and sunshine and snow, our state is filled with people who share each other's heartaches and celebrations. Here in Idaho, we have something much better than movie magic. We have something real.
The film, Finding Love in Big Sky, is available on UPtv. The author's four-novel "Resort to Love" series and other novels are available online and through bookstores. Find out more at the author's website.