Plane Speaking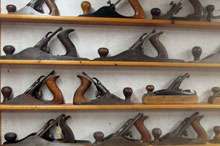 About a Woodworker's Tool
Story and Photos by Keith Knight
My friend Ken Lustig has always known a lot about old tools. A few years back, when I called him about what to do with some old hand planes I wanted to rehab, I soon learned that asking him this question was genius on my part. I'd long known he had a collection of planes, but I had no idea how extensive it was. When I walked into his shop in Coeur d'Alene, which is about the size of two-car garage, it had a very ordered but busy look to it. His plane collection was in a smaller room dominated by wall racks full of planes, all neatly arranged. In the middle was a large table where he concentrates on his refurbishing work. I was so intrigued by this scene that I spent several hours talking with him, taking a trip back in time.
I think a lot of people in Idaho appreciate both history and traditional hand tools and I think Ken may have one of the best collections in the state. I've known Ken as a woodworker for many years, and of his interest in different kinds of wood. He has made some beautiful boxes, cabinets, and one-of-a-kind furniture. We've taken classes together, from tool-sharpening to woodturning—if it has some thing to do with wood, he's interested. It all came together, I think, in the cabin he built on the river, with features amazing, eclectic wood contrasts.
Ken worked for the Panhandle Health District in Coeur d'Alene for more than thirty-five years, retiring as director of environmental services in northern Idaho. I guess you could say he had a reputation for being plain-spoken, although he also was known for using analogy and metaphor to make his points. He was a persistent advocate of protecting land and water quality.