Wild Goose Chase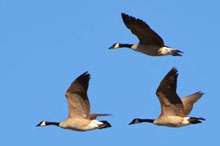 Boy Retrievers
By Joe Davis
We departed that cold winter morning at zero-dark-thirty. At the time, I didn't know what zero-dark-thirty meant, and I don't think my dad did, either—he just called it getting up early.
Years later, I learned in the Marine Corps that it was anytime between midnight and sunrise. The Marines were incapable of doing anything unless it began before full daylight, the same as my dad, which is why I now think of that morning as zero-dark-thirty.
I was around ten years old, and it was the first real hunting trip for my older brother and me. It was a goose hunt and we would be setting up in the stubble fields to the south of China Hat, an extinct volcano north of Soda Springs and south of the Blackfoot Reservoir. Uncle Dick picked us up after breakfast, loading decoys, ammo, guns, father and sons into the truck. Chuck, a friend of Uncle Dick and our dad, met us at the gate to the field, and we proceeded into the stubble. After what seemed like miles, we stopped on a low rise and started unloading.